Q: IF I HAVE HIV DOES THIS MEAN I HAVE A SHORT TIME TO LIVE?
With current research and science, there are many treatments for HIV that work to aid in increasing the immune system. If medications are taken properly HIV positive individuals can live long, healthy lives.
The biggest indicator for life expectancy rates of those with HIV is early detection and maintaining treatment. To read more about this, check out "Life expectancy now near-normal in people with CD4 counts over 350 a year after starting therapy" and "Longer Life Expectancy for HIV Positive People in North America"
Q: CAN I GET HIV FROM KISSING SOMEONE?
No, HIV is only transmitted through blood and bodily fluids. You have to get HIV positive blood into your blood stream for it to be transmitted. Even if this occurs, things like how much blood, how much virus is in the blood, and if the virus is still alive would influence whether or not it was transmitted.
Check out the CDC's Risk Behaviors  and Kissing for more info.
Q: CAN I GET HIV FROM A SWIMMING POOL?
No. There are many myths associated with HIV and transmission. Check out this video on facts to fight HIV myths.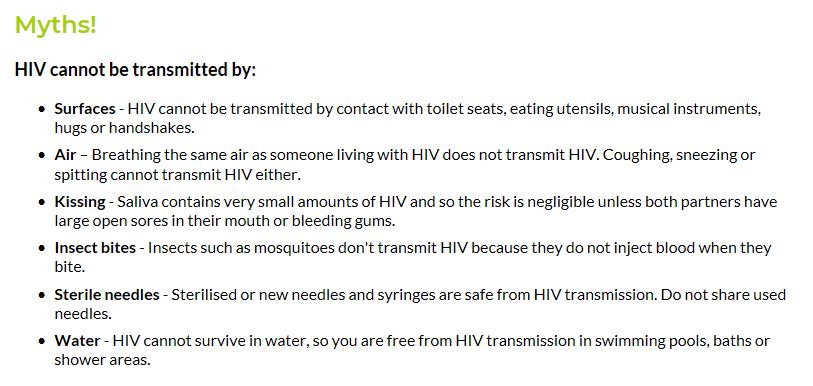 Q: WILL HIV TREATMENT BY HARSH ON MY BODY? WILL I EXPERIENCE LOTS OF SIDE EFFECTS?
In previous years, people who took HIV medication had to take many pills with potentially harsh side effects. However, current treatment in Canada involves many medication options that are easy to take, with few side effects. If this is a concern for you, make sure you are honest with your doctor to ensure you are on treatment that is right for you!
Check out the following links to learn more about HIV treatment and side effects:
Q: CAN I HAVE A BABY IF I AM HIV POSITIVE?
Yes. HIV positive women are often concerned if they become pregnant, their baby will also be HIV positive. To help decrease the risk of transmission, treatment is recommended for mothers during pregnancy and labour, formula feeding over breastmilk as HIV can be passed through breastmilk, and possible HIV medication for the baby for a short period after birth.
HIV, Pregnancy and Childbirth and HIV Medicines During Pregnancy and Childbirth are two great resources regarding pregnancy and HIV.
Q: IF I HAVE AN UNDETECTABLE VIRAL LOAD, AM I CURED OF HIV?
No. There is currently no cure for HIV. However, an undetectable viral load means treatment is working in your favour to help you stay healthy. Despite increased efficiency in current medication, there is no treatment which permanently rids the body of HIV.
Catie.ca discusses what it means to be undetectable here. This is a great read for anyone curious about the meaning of "undetectable".
Q: IF I AM HIV POSITIVE, DO I NEED TO TAKE MEDICATION FOR THE REST OF MY LIFE?
Yes. There is currently no cure for HIV. Therefore, currently, HIV medication is a lifelong treatment for the individual.
For a comprehensive guide to treatment, from Catie.ca, click here.
Q: ARE HIV AND AIDS THE SAME THING?
No. HIV is a virus that depresses the immune system; once the immune system is weak enough it can cause Acquired Immunodeficiency Syndrome (AIDS). However with proper treatment people can live long healthy lives without ever being diagnosed with AIDS. A person can have HIV and take treatment that allows them to never develop AIDS; however, someone cannot have AIDS without first having HIV.
To read more on HIV/AIDS progression check out the Mayo Clinic's HIV/AIDS Overview.
This progression is why knowing your status is important for your health, safety, and well-being.