Events
---
COMMUNITY EVENTS
Northreach staff are able to attend community events upon request. Some community events we have attended are: Thriving in the City at GPRC, Mighty Peace Teacher's Convention, Teepee Creek Stampede, Valleyview's Rural Community Crime Watch. Please contact us at 780-538-3388 or info@northreach.ca to see if we can attend your event!
Watch out for our Bar Blitz Crew! We hit up Grande Prairie bars bimonthly, handing out safer sex supplies! Say "hi" if you see us!
---
PAST EVENTS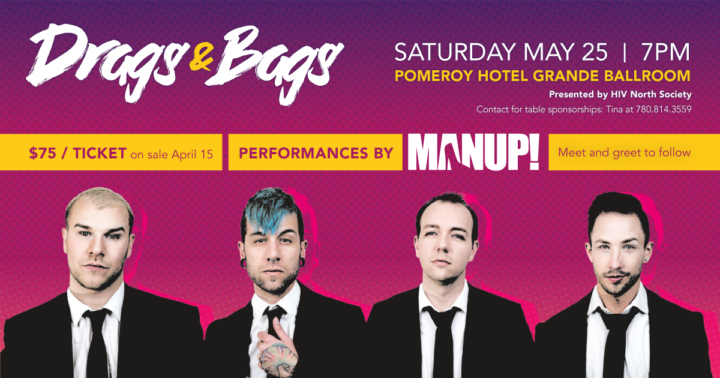 DRAGS AND BAGS
Northreach presented our 3rd annual Drags and Bags event May 25th 2019. It was a dynamic and entertaining evening with MAN UP! Dressed in high heels, MAN UP! is an all-male revue that delivers a message of self-love, finding confidence in one's vulnerability, and security in one's sexuality. There was a bountiful catered charcuterie with wine, beer, and spirits available for purchase. We were excited to bring back the ever-popular handbag lottery. A founding member of Northreach Society, formerly HIV North Society, Gordon Pellerin alongside Assistant Executive Director, Johnathon Fortune, spoke on Northreach Society's history, current work, and exciting news for the future.
PREVIOUS YEARS
---
World AIDS Day
World AIDS Day is a day dedicated to commemorate those who have passed on and to raise awareness about AIDS and the global spread of the HIV virus.
World AIDS Day is on December 1st of each year, and Northreach will mark this date with an event in each of our three communities.
---
Scotiabank AIDS Walk
The Scotiabank AIDS Walk for Life was held on September 13, 2015 in Peace River & Fort McMurray and on September 21, 2015 in Grande Prairie. The walk was a big success and was very well attended, despite the rain in Peace River.
These were wonderful family events featuring soccer games, bouncy castles, delicious food, and there was even an appearance by a pony in Grande Prairie. Peace River hosted a series of events over the weekend of September 21 & 13 including an open mic night, silent auction, and a movie, as well as the walk itself.
We are very excited to report that Northreach raised a total of $17210.99. Grande Prairie, Fort McMurray, and Peace River raised $8339.70, $2332.17, and $6539.12 respectively, all of which will stay in the community in which it was raised.
Thank you to all who attended and to all of our amazing volunteers who helped make this even such a success. We look forward to seeing everyone again next year!