About the program
The 2SLGBTQ+ Youth Mentor supports identifying youth in Grande Prairie through gender and sexual diversity education, one-on-one support, and a once a week drop-in.
This is an inclusive program created to give youth, parents, and teachers support. The youth drop-in is a safe space where 2SLGBTQ+ youth and allies can create and feel connection to others with similar experiences.
Visit our Facebook page or our Instagram for more information of where youth group is being held this week.
If you would like to talk to someone, message the Facebook page, direct message the Instagram, or feel free to email the 2SLBGTQ+ Support Worker at jey@northreach.ca.
Whether you're struggling with your identity, or you know someone who is, reach out. We are able to meet you where you're at.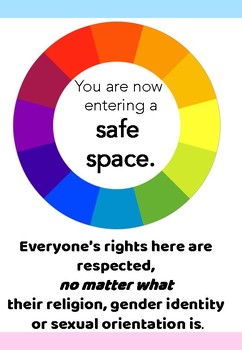 2SLGBTQ+ Video Resources
The Difference between Gender Identity and Sexual Orientation

What is a Non-Binary Gender Identity?

What are the Gender-Affirming Management Options for Transgender Individuals?

The myth of the gay agenda – LZ Granderson

Proud to call you my transgender son | Skip Pardee | TEDxReno

Transgender: a mother's story | Susie Green | TEDxTruro

A Brief LGBTQ+ Canadian History Timeline
1842– Patrick Kelly and Samuel Moore become Canada's first men convicted of "homosexual sex between two consenting adults" (Lyons, 2016, para. 5). Convicted of sodomy, which, in Canada, carried a death sentence until 1869, the men were sentenced to life imprisonment; both later released regardless of the sentence (Lyons, 2016).
1949- Jim Egan starts writing newspapers and tabloids, as an openly gay man, "denouncing the way LGBTQ people were portrayed in the media and by the public" (Levine, 2018, para. 4).
1950s (starting)– LGBTQ individuals were seen as a threat to security for Military, RCMP, Government positions. According to lgbtqpurge.com,
One of the challenges for the investigators was the inability to objectively ascertain whether an individual was gay or lesbian. A professor at Carleton University created a device that allegedly could aid in 'scientifically" ascertaining homosexuality, a device the RCMP dubbed the "Fruit Machine." Thousands were affected. (para. 9)
Members who admitted to being LGBTQ were discharged from the Canadian Armed Forces, sometimes dishonourably. LGBTQpurge.com states "the Canadian Military only ended its official exclusionary policies in the early 1990s" (para. 16).
On November 28, the Government will offer a formal apology to LGBTQ2 Canadians in the House – for the persecution & injustices they have suffered, and to advance together on the path to equality & inclusion.

— Justin Trudeau (@JustinTrudeau) November 19, 2017
1953- Canada's Immigration Act was amended to prohibit homosexuals from entering the country; was repealed in 1977 (CBC Digital Archives, n.d.).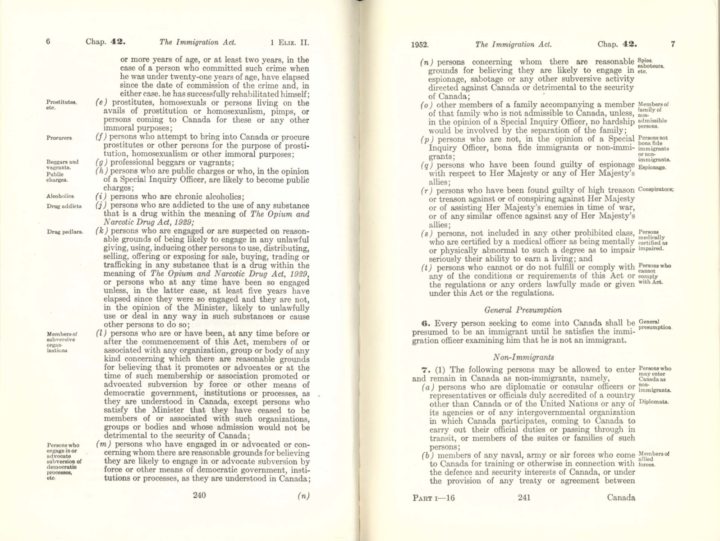 1963- RCMP Directorate of Security and Intelligence's A-3 unit, which had the goal of finding and removing all homosexuals from law enforcement and government, created a map with red dots where all alleged residences and frequent visitations of homosexuals. Map was disposed of, as it was filled with red ink; two larger maps were used and had the same outcome, therefore mapping ended. (Revolvy, n.d.)
1964- Canada's first "gay-positive" organization, "ASK", and first gay magazines: ASK Newsletter (Vancouver) and Gay (Gay publishing Company of Toronto) (CBC.ca, n.d.)
1965- Everett George Klippert was the last gay man arrested in Canada for gross indecency. He was originally detained over suspected arson, of which he was proven to be not guilty, however during his interview with the RCMP he confessed to homosexual acts. Due to previous charges, he was subject to a Crown-appointed psychiatrist and deems incurably homosexual and therefore a dangerous sexual offender. This was regardless of his partners being consenting adults, and regardless of his cooperative and honest nature with the entire judicial process. His arrest sparked the movement towards decriminalizing homosexuality. (CBC, 2016)
1967-1969- In 1967, Pierre Trudeau (as Justice Minister) introduced Bill C-150 which would decriminalize homosexuality. The bill was heatedly debated, but passed in 1969 by a vote of 149 to 55 (Burnie, n.d.). The bill was not limited to decriminalizing homosexuality but also included allowing abortion and contraception, regulating lotteries, gun possession, drinking and driving offences, harassing phone calls, misleading advertising, and cruelty to animals. Those opposed to the bill held up debate for three weeks and created a smear campaign against Trudeau, labelling him the "beast of Sodom". Pierre Trudeau is infamously quoted as saying:
It's certainly the most extensive revision of the Criminal Code since the 1950s and, in terms of the subject matter it deals with, I feel that it has knocked down a lot of totems and overridden a lot of taboos and I feel that in that sense it is new. It's bringing the laws of the land up to contemporary society I think. Take this thing on homosexuality. I think the view we take here is that there's no place for the state in the bedrooms of the nation. I think that what's done in private between adults doesn't concern the Criminal Code. When it becomes public this is a different matter, or when it relates to minors this is a different matter." (CBC, 2012)
1971-  At the "We Demand" protest held in Ottawa in 1971 – the first major demonstration of its kind in the country – protestors demanded an end to anti-gay laws and police harassment.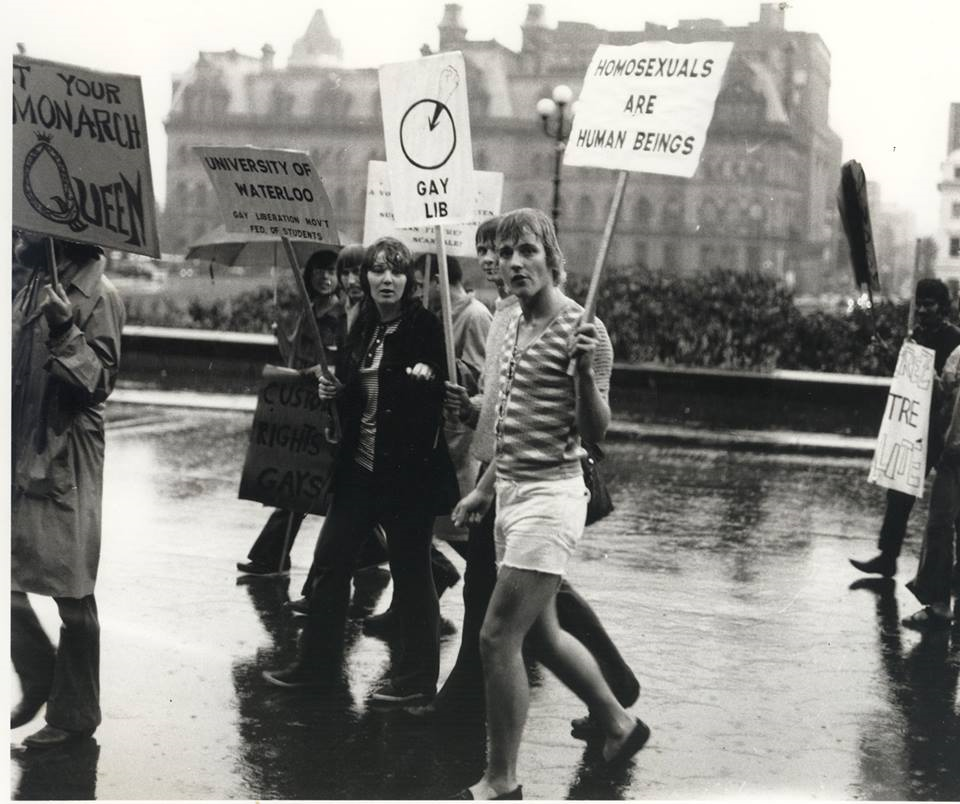 Photo : Jearld F. Moldenhauer (Canada Museum for Human Rights, n.d.)
1974- The first gay studies class taught at a Canadian university, "New Perspectives on the Gay Experience", became publicly controversial. The publicity became problematic for the University of Toronto, also creating problems for its professor, Michael Lynch. Lynch was asked not to teach any more gay-studies courses. (Perdue, 2009)
1974- 

1976- Montreal targets the gay community in an effort to "clean up" prior to the summer Olympic Games, "In the months preceding the 1976 Summer Olympic Games in Montreal, the city's gay village was effectively shut down" (Andrew Tompkins, 2015). Tompkins states "simultaneously, bath houses were raided in Ottawa – the imagined epicentre of Canadian political identity – in conjunction with Montreal's efforts to clean up the presence of sexual deviance".
1977- Emanuel Jaques, a 12 year old boy in Toronto, was violently sexually assaulted and murdered by a group of men. The details of the case were disturbing and the judge proceeding over the trial used it as an example of supporting homophobia, stating "There are those who seek protections for homosexuals in the Human Rights Code, you make me wonder if they are not misguided" (Bateman, 2016).
1977- Quebec's Charter of Human Rights and Freedoms prohibits discrimination based on sexual orientation. Becoming the first jurisdiction, larger than a city/county to prohibit homophobic discrimination. (LegisQuebec)
1981- 'Operation Soap' also know as the Toronto Bathhouse Raids took place February 4thin 1981 and is consider to be a turning point in Canadian LGBTQ+ civil rights history. Toronto police raided four bathhouses and arrested over 250 gay men, the next night, over 3000 people protested to the arrests and the raids. This is often referred to as "Canada's Stonewall".

In 2016, The Chief of Police in Toronto issued an official apology to the LGBTQ+ community for the damage done during Operation Soap.

1983- The last bathhouse raid occurs in April at The Back Door Gym; 17 men are charged, and three days later more than 1000 people protest the raid. The warrant used in the raids was deemed invalid in October of 1984. (Gulliver, 2006)
1985- In June, five teenage boys brutally murdered Kenneth Zeller, a Toronto School Board secondary school librarian. The murder received extensive media attention, however the media downplayed the murder was driven by homophobia and instead highlighted it as male-teenage-bonding and social pressure. Grozelle (2017) states:
the murder of Zeller, by a group of young male students, can be seen as one example of the negative outcomes that can occur as a result of increased social resistance to, and stigmatization of, particular groups of people. In other words, past events in Toronto, and throughout Canada, displayed the conditions of acceptability in terms of discrimination and violence towards gay men.
1987- A sketch comedy show, CODCO, which has openly gay cast members, Greg Malone and Tommy Sexton, debuts on television; "in addition to the gay characters "Jerome and Duncan", Sexton and Malone were especially renowned for drag-based impersonations of celebrity women" (CBC, n.d.).
1988- Svend Robinson, Canada's first elected Member of Parliament to come out as gay; Canada's first openly gay MP (svendrobinson.com, n.d.).
1988- The Kids in the Hall debuts, and features openly gay cast member, Scott Thompson. The character Buddy Cole was one of the most visible representations on Canadian television at the time (CBC, n.d).
1989- Montreal, in late March, Joe Rose was brutally murdered, for being gay. Rose and a friend, Sylvain Dutil, were harassed, taunted, and then attacked by a group of teens, who shouted homophobic remarks at them. According to Burnett (2015), "ravaged by HIV at the height of the AIDS crisis and grappling with homophobia, the community's sense of being under siege was further complicated by anti-LGBT hate crimes and a string of unsolved murders" (para. 9).
1989- In Ottawa, August 21st, Alain Brosseau was "attacked by a group of teenagers who chased him, beat him, dangled him by his ankles over the side of the bridge and let him fall to his death[;] his attackers later said they mistakenly believed Brosseau was gay, which he was not" (CBC, 2009). The attackers broke into a home, after killing Brosseau, and attacked two men while they slept. Brosseau's murder meant it could happen to anyone, regardless of how they identified. In 1991, two years after Brosseau's murder, Ottawa Police services create Canada's first LGBT Police Liaison Committee.
1990- Vancouver hosted the third Gay Games.
The third Gay Games were the first to take place outside the USA. It was the first to see Masters world records broken (in swimming). 27 countries sent 7,300 athletes participated in 27 sports plus 1,500 cultural participants. At the height of the AIDS crisis, the Gay Games doubled in size again and continued to serve as an inspiration. (Federation of Gay Games, 2018)
1990- Chris Lea, and openly gay politician, wins leadership of the Green Party of Canada, making him the first openly gay leader (CBC, n.d.).
1993- "The Last Closet" airs on CBC Radio-Canada, as an hour-long groundbreaking special about gays in sports. The show discussed the fear around coming out in sports and featured two prominent Canadian athletes, who use voice distortion to hide their identities. (Buzinski, 2011)
1995- Egan v. Canada. Jim Egan and Jack Nesbit, his lifelong common-law partner, brought the case forward when Jack was denied spousal allowance as a common-law partner when Jim started receiving his old-age security (Findlay, 2018). They lost the case, however it was this case that brought forward the injustice to LGBT couples.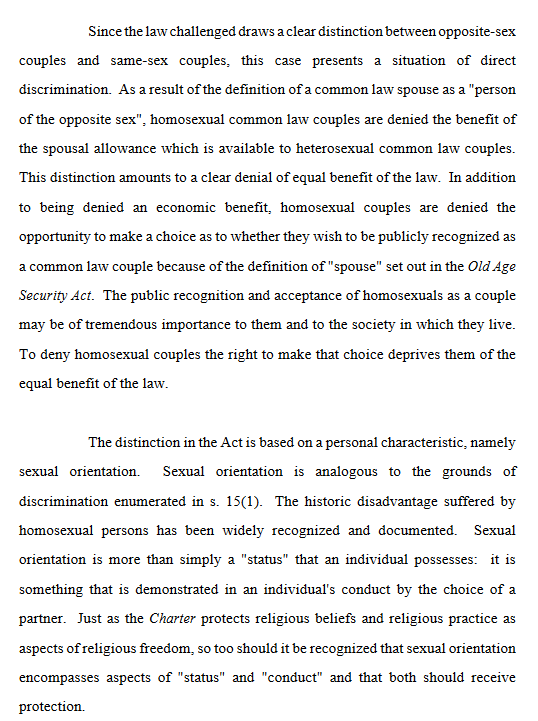 (Egale, n.d.)
1996- Bill C-33, An Act to amend the Canadian Human Rights Act, was enacted, which included sexual orientation as one of the Act's prohibited grounds for discrimination (Hurley, 2007). The amendment brought the federal Act in line with the provinces and territories, except for Alberta which did not have sexual orientation as protected at that time.
1998- Glenn Murray becomes the first openly gay elected mayor in any North American city. Murray, as quote by Thacker (2015), on being elected:
I'll never forget the moment that I got elected, and the sense of impossibility. We stayed up until the first newspapers came out to see that we'd actually won the mayor's job, because I don't think I believed it until I actually saw it in print. When I got elected, I'll never forget all these police cars showed up; there had been so many death threats that we all had to move away from the windows in the campaign office, they covered them all and put brown paper up, and it was a moment of sitting in the darkness there thinking, 'Yeah, this is going to be a tough time.' You cannot live your life for the people who hate you and the things you're afraid of … too many people are intimidated by fear and intimidated by hatred.

2000- Little Sisters v. Canada Customs. Little Sisters Books launched a constitutional challenge over its treatment at the hands of Canada Customs, which had been delaying and hold shipments from the US. The Book and Art Emporium claimed Customs was purposefully targeting them. The Supreme Court agreed the actions by Canada Customs were targeting Little Sisters and Justice Ian Binnie stated "when Customs officials prohibit and thereby censor lawful gay and lesbian erotica, they are making a statement about gay and lesbian culture, and the statement was reasonably interpreted by the appellants as demeaning gay and lesbian values" (Women's Legal Education and Action Fund, 2014).
2000- A women's bathhouse event in Toronto is raided, however no charges are laid against costumers, and charges laid against event organizers are delayed. The police officers involved in the raid were all men,
(Gallent & Gillis, 2001)
2003- The Court of Appeal for Ontario, in Halpern v. Canada, rules the common law definition for marriage, as between one man and one woman, violates section 15 of The Canadian Charter of Rights and Freedoms; "the decision immediately legalizes same-sex marriage in Ontario, and sets legal precedent" (CBC, n.d.). Same-sex marriage is now recognized by the courts. To read more about Halpern v. Canada.
2005- The Civil Marriage Act legalizes same-sex marriage across Canada. Paul Martin, Canadian Prime Minister, describes his view on the context and reasons for the passing of the Act:
2005- Allison Brewer wins leaderships of NDP for New Brunswick, and Andre Boisclair wins leadership of Parti Quebecois for Quebec. Both are openly gay.
2006- The largest-ever international conference on LGBT issues, 1st World Outgames, was held in Montreal. The Declaration of Montreal was endorsed by the participants. Over 1500 people from more than a hundred countries attended. (Declaration of Montreal, 2015)
2007- 103.9 Proud FM, Toronto, becomes the first commercial radio station to target the LGBT community (Mudhar, 2007).
2008- During a federal election campaign, David Popescu, running as an independent, made extreme homophobic remarks, telling a group of high school students homosexuals should be executed. He then repeated the comments in an interview with a Toronto radio station. Popescu was eventually charged and convicted with promoting hatred (May, 2009).
2009- Ritch Dowrey, a gay man, was assaulted and left with permanent brain damage by Shawn Woodward (Bellett, 2010). The assault took place in a well-known gay bar in Vancouver's West End, the Fountain Head Pub; Woodward was hit from behind with no chance to defend the assault (Bellett, 2010). The judge ruled the crime was motivated by deep homophobia and hatred and sentenced Woodward to six years in prison (Bellett, 2010). The sentence was a signal that hate-crimes against the LGBTQ community would be taken seriously.
2010- Canada host's winter Olympics in Vancouver, hosting an LGBTQ friendly Pride House.
2011- Jamie Hubley, teenage son of Allan Hubley and Ottawa city councilor, completes suicide after years of bullying at school for being openly gay (CTVNews.ca Staff, 2011). Prompting Canadian media and political figures to post videos to the It Gets Better Project.
2012- The RCMP Release an official It Gets Better video featuring 20 participants.

2012- Jenna Talackova, following a legal battle to reverse her disqualification, becomes the first transgender woman to compete in Miss Universe Pageant (CBC, n.d.).
2013-  Bill-C-279 An Act to amend the Canadian Human Rights Act and the Criminal Code (gender identity) passes, however it did not become law. The act was to include gender identity as prohibited grounds for discrimination.
2013- Edmonton Garrison raises rainbow colours for Pride Week.

2015- Bill C-279 is amended to exempt it from applying to public spaces which included washrooms and locker rooms. Helen Kennedy of Egale Canada Human Rights Trust said "The amendment to Bill C-279 fuels discrimination against transgender individuals by making it seem like people have something to fear by sharing a bathroom with a transgender person, which of course they don't" (Amnesty International, 2015).
2017- In June, Bill C-16 receives Royal Assent, amending the Canadian Human Rights Act to include gender identity and gender expression as prohibited grounds for discrimination. The enactment amends the Criminal Code to extend protection against hate propaganda, as set out in the Act, to the section of the public distinguished by gender identity or gender expression.
2018– Canada host another Pride House at the Winter Olympics in Pyeongchang, South Korea (Kalvapalle, 2018).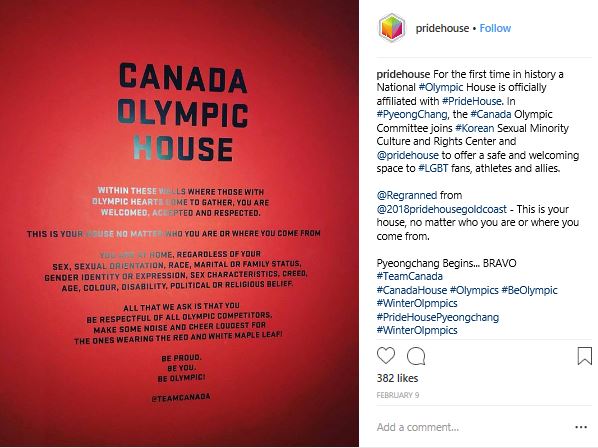 Reference
Amnesty International. (2015). Disappointing Senate decision exposes transgender people to threats and violence. Retrieved from: https://www.amnesty.ca/news/news-releases/disappointing-senate-decision-exposes-transgender-people-to-threats-and-violence
Bateman, C. (2016). Historicist: The murder of Emanuel Jaques and the cleanup of Yonge Street. Torontoist. https://torontoist.com/2016/06/historicist-emanuel-jaques/
Bellett, G. (2010). Man 'driven by virulent homophobia' sentenced to 6 years for attack on gay man. Vancouver Sun. Retrieved from: http://www.vancouversun.com/health/Vancouver+gets+years+homophobic+attack/3795451/story.html
Burnett, R. (2015). Prejudice to pride: The forgotten murder of Joe Rose. Montreal Gazette. Retrieved from: http://www.montrealgazette.com/health/Prejudice+pride+forgotten+murder+Rose/9619291/story.html
Burnie, G. (n.d.). Bill C-150 – Criminal law amendment act, 1968-69. Retrieved from: https://interestingcanadianhistory.wordpress.com/2014/03/29/bill-c-150-criminal-law-amendment-act-1968-69/
Buzinski, J. (2011). Moment #62: CBC airs "the last closet". CBC Radio-Canada. Retrieved from: https://www.outsports.com/2011/8/4/4051640/moment-62-cbc-airs-the-last-closet
Canadian Museum for Human Rights. (n.d.). Photographer: Jearld F. Moldenhauer. Retrieved from: https://www.facebook.com/canadianmuseumforhumanrights/photos/a.414008475512.178253.97884715512/10153491233325513/
CBC. (n.d.) Gay Revolution. Retrieved from: http://www.cbc.ca/doczone/content/interactives/gayrevolution/timeline/default.htm
CBC. (2016). Man imprisoned for being gay to get posthumous pardon from Trudeau. Retrieved from: https://www.cbc.ca/news/canada/man-imprisoned-for-being-gay-to-get-posthumous-pardon-from-trudeau-1.3468287
CBC. (2012). Timeline: Same-sex rights in Canada. Retrieved from: https://www.cbc.ca/news/canada/timeline-same-sex-rights-in-canada-1.1147516
CBC. (2009). Gay-targeted murder recalled 20 years later. Retrieved from: https://www.cbc.ca/news/canada/ottawa/gay-targeted-murder-recalled-20-years-later-1.778307
CBC Digital Archives. (n.d.). Homosexuality: a "psychiatric" problem in 1959. Retrieved from: http://www.cbc.ca/archives/entry/homosexuality-a-psychiatric-problem-in-1959
CTVNews.ca Staff. (2011). Ottawa teen details final suicidal thoughts on blog. CTV News. Retrieved from: https://www.ctvnews.ca/ottawa-teen-details-final-suicidal-thoughts-on-blog-1.712337
Declaration of Montreal. (2015). Introduction. Retrieved from: http://www.declarationofmontreal.org/
Egale. (n.d) Egan-v-Canada-1995. Retrieved from: https://egale.ca/wp-content/uploads/2013/01/Egan-v-Canada-1995canlii98.pdf
Federation of Gay Games. (2018). History of the Gay Games. Retrieved from: https://gaygames.org/History
Findley, B. (2018). Remembering the impact of Egan v. Canada. The Star. Retrieved from: https://www.thestar.com/news/insight/opinion/2018/06/16/remembering-the-impact-of-egan-v-canada.html
Gallant, C. & Gillis, L. (2001). Pussies bite back: The story of the women's bathhouse raid. Journal of the Canadian Lesbian and Gay Studies Association 3. Retrieved from: https://torquere.journals.yorku.ca/index.php/torquere/article/viewFile/36620/33268
Grozelle, R. S. (2017). The rise of gay liberation in Toronto: from vilification to validation. Inquiries Journal 9(10). Retrieved from: http://www.inquiriesjournal.com/articles/1510/2/the-rise-of-gay-liberation-in-toronto-from-vilification-to-validation
Gulliver, T. (2006). Towels, cubicles & handcuffs we have known. Xtra. Retrieved from: https://www.dailyxtra.com/towels-cubicles-handcuffs-we-have-known-22566
Hurley, M. C. (2007) Sexual orientation and legal rights. Parliament of Canada. Retrieved from: https://lop.parl.ca/content/lop/researchpublications/921-e.htm
Kalvapalle, R. (2018). Canada hosts LGBTQ-friendly Pride House in Pyeongchang Olympic Village. Global News. Retrieved from: https://globalnews.ca/news/4018707/pride-house-pyeongchang-canada/
LegisQuebec. (n.d.) C-12 – Charter of human rights and freedoms. Retrieved from: http://legisquebec.gouv.qc.ca/en/ShowDoc/cs/C-12
Levine, R. (2018). Behind the scenes: New Heritage Minute puts spotlight on LGBTQ activist Jim Egan. Retrieved from: https://www.utoronto.ca/news/behind-scenes-new-heritage-minute-puts-spotlight-lgbtq-activist-jim-egan
LGBTQpurge.com. (2018). who, what, when, where, why. Retrieved from: http://lgbtpurge.com/about-lgbt-purge/
Lyons, M. (2016). Sodomites, crime and punishment: The story of the first men convicted of homosexual sex between two consenting adults in Canada. Retrieved from: https://www.dailyxtra.com/sodomites-crime-and-punishment-70094
May, S. (2009). Popescu guilty of promoting hatred.  The Sudbury Star. Retrieved from: www.thesudburystar.com/2009/08/08/popescu-guilty-of-promoting-hatred
Mudhar, R. (2007). Proud FM makes history. The Star. Retrieved from: https://www.thestar.com/entertainment/2007/04/15/proud_fm_makes_history.html
Perdue, A. (2009). Out and Proud. University of Toronto Magazine. Retrieved from: http://magazine.utoronto.ca/cover-story/out-and-proud-history-of-gay-lesbian-activism-toronto-anne-perdue/
Revolvy. (n.d.) Timeline of LGBT history in Canada. Retrieved from: https://www.revolvy.com/main/index.php?s=Timeline%20of%20LGBT%20history%20in%20Canada
Svendrobinson.com. (n.d.) Biography. Retrieved from: http://www.svendrobinson.com/2.html
Thacker, S. (2015). Absolutely Manitoba presents: One gay city. CBC. Retrieved from: http://www.cbc.ca/news/canada/manitoba/events/absolutely-manitoba-presents-one-gay-city-1.3137362
Tompkins, A. (2015). Queering Canadian homonationalism: limited approaches to foreign homophobia. Retrieved from: https://curve.carleton.ca/system/files/etd/d6e94022-8138-4d9b-93bc-a8043f11173b/etd_pdf/ac05a76984b6c20c547f65b4f0e91224/tompkins-queeringcanadianhomonationalismlimitedapproaches.pdf
Women's Legal Education and Action Fund. (2014). Little Sisters Book & Art Emporium et al. v. Minister of Justice et al. Retrieved from: http://www.leaf.ca/little-sisters-book-art-emporium-et-al-v-minister-of-justice-et-al/