Hours of Operation : 10 AM – 10 PM, 7 Days a Week
Location : Wapiti House, Grande Prairie
Northreach values the support we receive from the community. We developed an online form to capture community feedback regarding our SCS Program. Please click here.
or
see our Good Neighbour Commitment
_______________________________________________________________________
  Supervised Consumption Services At Northreach
The Northreach SCS is licensed by the Alberta government and operates with an exemption granted by Health Canada.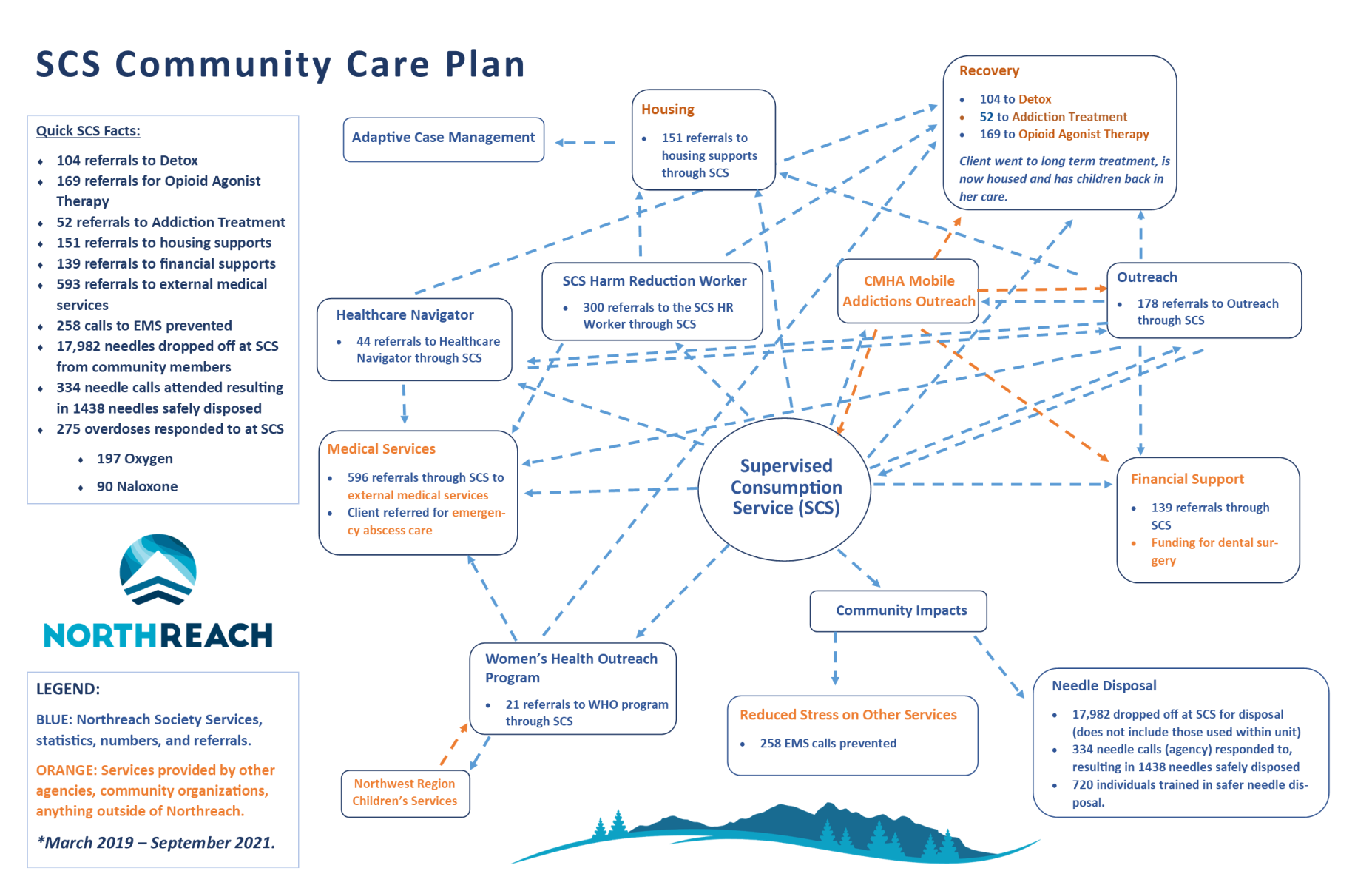 A hygienic health service facility where a person can consume illicit, pre-obtained* substances.
A medically supervised consumption area including 2 injection booths.
Access to sterile harm reduction supplies and education.
Medical staff trained in harm reduction and overdose response.
A post-consumption space where staff monitor for adverse reactions.
Referrals connecting people to health and social services within the community.
*Selling, buying, sharing or trading substances is prohibited at the site.
The following data has been collected at the Northreach SCS from March 11, 2019 to July 31, 2022:
28,847 visits by 446 individuals;
2355 referrals to external health and social services including 142 referrals to detox, 82 referrals to treatment, and 230 referrals to Opioid Dependency Programs;
422 overdoses responded to by staff with no fatalities;
400 EMS calls prevented.
     _______________________________________________________________________
Why Are Supervised Consumption Services Needed?
From January 2016 – October 2021, there have been 6025 substance overdose deaths in Alberta (Alberta Substance Use Surveillance System, 2021). On average, four people die in Alberta every day due to an overdose.
Grande Prairie has had 165 overdose deaths from January 2016 – October 2021. From January to September 2019, Grande Prairie experienced 19 deaths. This is the highest rate for fentanyl-related deaths in Alberta, at 34 per 100, 000 population; previously, Grande Prairie had the highest rate in 2017, at 36.4 per 100, 000. The most recent update shows that Grande Prairie experienced no deaths during the third quarter of 2019.
Supervised Consumption Services:
Save lives by responding to overdoses;
Increase referrals to detoxification and treatment;
Increase access to Naloxone;
Decrease needles and debris discarded in public areas, Biohazards are taken to waste management facilities;
Decrease public substance consumption;
Decrease health care spending by: Decreasing risks of skin infections, blood clots, and heart infections related to reusing needles;
Decrease needle sharing thus decreasing HIV and Hepatitis C rates.
______________________________________________________________________________
Northreach's Role
Northreach is Grande Prairie's primary harm reduction agency, focusing on the prevention of sexually transmitted and blood borne infections (STBBIs) through the distribution of sterile injection equipment and safer sex supplies. Programs and services address the Social Determinants of Health through the provision of wrap-around supports focusing on increasing the health and well-being of Northern Alberta residents. Harm reduction remains the foundation of our services.
Northreach acknowledges Supervised Consumption Services (SCS) to be a complementary and necessary support, saving lives while increasing the health and well-being of service participants.
_____________________________________________________________________
The Need in Grande Prairie
According to Opioids and Substances of Misuse, Alberta Report, Grande Prairie had the highest fentanyl and non-fentanyl opioid-related overdose deaths in the province in 2017. During this time, Northreach (previously known as HIV North) conducted 200 research surveys with individuals who consume substances in Grande Prairie. The results of the survey indicated:
75% of individuals reported injecting in public;
52% reported witnessing needle sharing;
34% reported having difficulty obtaining new needles;
19% reported the operation hours of needle distribution programs as a key barrier;
75% of those consuming substances by injection and 61% of those consuming by nasal routes would use SCS;
Respondents reported unsafely discarding needles about 34% of the time;
61.5% of individuals consume substances 4 or more times a week.
Through the needs assessment, and consultations with local stakeholders, Northreach determined Supervised Consumption Services are needed in Grande Prairie.  Northreach proposed a mobile model to meet the immediate needs of those who consume substances. Following the fabrication of the vehicle, an application was submitted to Health Canada for an exemption under the Controlled Drug and Substance Act. This exemption allows for the possession and consumption of controlled substances within an SCS. However, selling, buying, trading, or sharing substances is prohibited. The Mobile Supervised Consumption Service opened March 11, 2019, and is located at Wapiti House.
_______________________________________________________________________
More Information About SCS
In 2003, Vancouver's Insite became Canada's first legally approved SCS, known then as a Safe Injection Site. One study revealed, if Vancouver's SCS were closed, the number of annual HIV infections among intravenous substance consumers in Vancouver would be expected to rise from 179.3 to 262.8. The increase of 83.5 preventable infections has a cost association of $17.6 million in life-time HIV-related medical care costs. Other studies on Insite show:
30% of individuals accessing Insite report entering a detoxification program;
57% start a substance treatment program;
23% stop injecting substances.
Did you know there are more than 100 sites worldwide?
For more information on Supervised Consumption Services please see Why SCS and the Alberta Health Services website.
_______________________________________________________________________